Director Search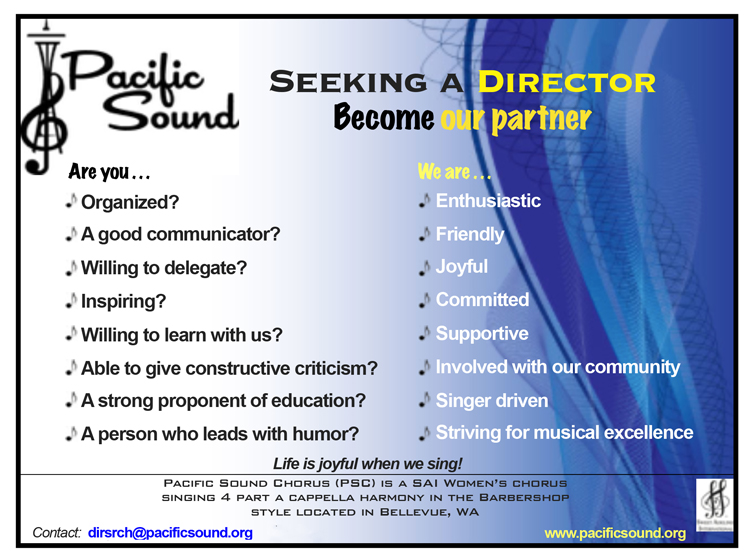 Pacific Sound Chorus is an energetic and fun group of women that love singing
        4 part a cappella harmony in the Barbershop style.  Musical education is important
        to us as we strive to improve our individual musicianship as well as our group
        performance skills.
        We chartered with Sweet Adelines International in 1990 and have participated in
        Region 13 competitions and international contests. We meet weekly in Bellevue, WA
        on Tuesday evenings 7-9:30 pm.
        If you are interested in hearing more about this exciting opportunity contact our
        Director Search Team at [email protected]. If you know someone you think
        may be qualified, please share this information with them. 
        PDF Flier with this information
Note:  This application is a PDF form.  It is designed to be used with the Adobe PDF
reader which can be downloaded for free here https://get.adobe.com/reader/otherversions/. 
There are many PDF readers available, but this one will allow you to SAVE the document
as you fill it out - a very important feature - File, Save are in the upper left hand corner. 
Once you have the Adobe PDF reader, download the Application for Director,  then right click
on it and click on "Open With" and then select the Adobe PDF reader.  If you have any extra
comments on any of the items, feel free to write a document which has any added comments. 
We look forward to hearing from you.  
 
If you have problems with this PDF form, here is a Word file that can also be used.
Director Application Word.
        For more information on Sweet Adelines International please visit www.sweetadelines.org.
                                                                 LIFE IS JOYFUL WHEN WE SING!